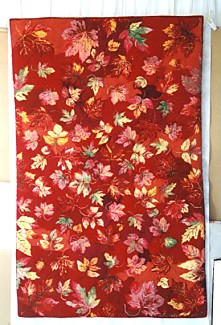 I lived in Toronto,Canada from 1976 to 1983. One day,I found a beautiful mushiroom bell pull
in a library showcase. Icould not guess what it was made of|---or even how it was made. I
looked very complicated and difficult,somehow, but I knew I wanted to learn how to make one.
_____________________
I soon mooved to Tokyo where I had grown up. As soon as I settled down,I exhibited my several
works in a bank lobby. Then I started my first rug hooking class with 17 ladies,in Septmber 1985
_____________________
I 'v been showing the Japanese who had never seen what a hooking truely is, and how wonderful
it is to make our own works by our own hands, sharing the joys and friendships with many people.
From RUG HOOKING July/August 1990 - COMMONWELTH COMUNICATIONS SERVICES,INC.